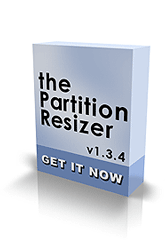 the Partition Resizer v1.3.4
The popular freeware partitioning program is back! The first free program to resize and move partitions without data loss, is now more complete, with support for disks up to 2TB of size.


New features include:

Int13 extensions support allows handling of disks up to 2TB (2048GB) of size.


New Resizing/Moving engine with simpler inerface. Move and resize your partitions in one step.


Transparent extended partition resizing (no more confusion with extended partitions).


Command line parameters for accessing advanced options (read-only operation etc.).
Partition Resizer is a small DOS executable, which requires no installation, and can perform, all these tasks in a short while, giving you the opportunity to re-arrange your partitions safely, quickly and fuss-free.
To find more about Partition Resizer, you can download it from the download page and read the accompanying documents, or visit the Frequently Asked Questions page.

IMPORTANT bug announcement: Please do NOT use Partition Resizer (v1.3.3 or earlier) to move non-FAT partitions (NTFS, Linux ext2fs etc). Due to a serious bug, some rare partition chain cases may cause indeterminate data loss. Please download Partition Resizer v1.3.4 from here.